What is tea?
130 years ago, our founders fell in love with a brilliant little bush that just happens to grow the tastiest drink in the world.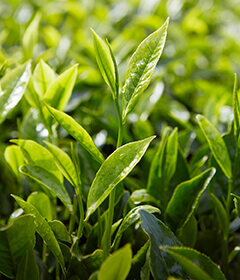 The tea bush
All tea comes from one type of bush, called Camellia Sinensis. It can grow wherever the climate is right, but the tea we're interested in is mainly grown in Assam and East Africa. Soil, climate, and rainfall all affect the quality and flavour, as does the way it's picked and handled.
Oxidation
Tea leaves are laid out to dry and ferment, or oxidise – a natural reaction that gradually happens when picked leaves meet oxygen, turning them from green to brown and developing their flavour. A blast in a hot oven stops the fermentation at the right point, then the leaves are sized, graded and sold to tea companies like us!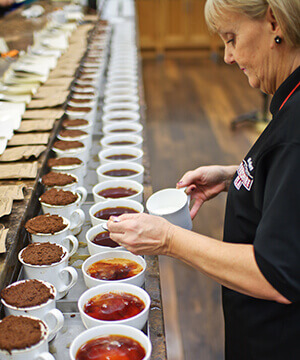 Tasting
Even though the plant and process is the same all over the world, the flavour characteristics of teas from different origins and seasons varies hugely. So between the harvest and the final cup, each tea will be tasted up to eight times to make sure everything has been done properly each step of the way – and we taste up to a thousand samples a day before deciding exactly how much of each tea will go into our blends.
Blending and packing
We gently mix a handful together in a delicate blending drum which stops the leaves getting bruised, then whisk them off to be bagged, packed and wrapped for freshness before sending them out to shops.